Example of Faulty Components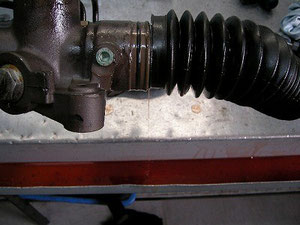 High pressure seals are used to contain the high pressure power steering fluid in the system.  After many years in operation, these seals that are made of rubber start to deteriorate due to the heat involved in the system and wear.  Sometimes, a scratched or corrosion damaged shaft is the cause of system failure, and leaks occur.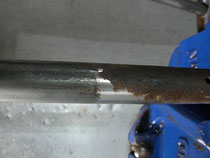 The rust seen on the surface of this steering shaft is quite common in some makes and models, and is the main cause of premature system failure.
The main steering shaft should have no scratches or corrosion damage for the system to work properly with no leaks.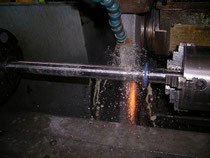 Surface rust on shafts can be repaired by surface grinding, then sending the shaft to be hard chromed to add a layer of chrome plate onto the shaft.
After plating, it is then re-ground and finally polished to achieve a mirror smooth finish on the shaft for seals to slide along.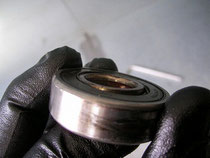 Most power steering pumps have a bearing to support the main shaft, as it is spining.  All bearings, if available, are replaced during the recondition process, as they are sometimes the main cause of pump failure, and can cause the pump to extremely noisy.
After years and kilometers of use or foreign matter entering the system, high pressure seals will start leaking power steering fluid.
There is no way to stop leaks from high pressure seals other the reconditioning.
We do not recommend second hand steering racks, as more often than not they are either already leaking or not far from it.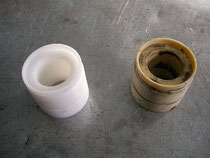 Sometimes the end bush of the steering rack has too much clearance and is the cause of premature failure.  The rack bush on the right side in the picture was in this bush caused the failure due to severe scratching on the main shaft allowing fluid to transfer outside the sealed area and then leaks.
Most rebuild kits do not come with this bush, however, we can manufacure our own bushes in house, if needed.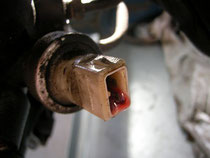 A pressure switch is mounted on some steering racks, and it can cause leaking as well. 
We also check these parts for leaks, when testing reconditioned steering racks.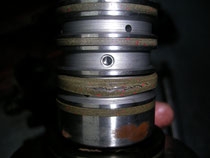 Worn or broken valve ring on the pinion can cause operational trouble.    In the case of the left photo, the power steering system gives an assist  on only one way.
On some models, it is very common.  That is why we do not recommend to use second-hand components for replacement.